MineScape
After a long two days of bug fixing and last minute feature implementations, the Open Beta release is ready! Certain areas of the map are locked, no members skills are implemented and a lot of features aren't yet implemented - but no matter! We'll be doing weekly updates that'll include new mobs, quests, areas & features! We hope you'll join us on this journey of development as we continue to expand the world of Gielinor!

IP: MineScape.us
Server Version: 1.11.2

While playing, remember this IS open beta. Meaning it's not perfect and there will be bugs. Please report all bugs here on the forums or in the #bugs chat on the Discord.

Until we finish optimizing our resource pack, here's a major way of fixing the FPS issue. Some of you may experience low FPS - some of you may not be able to even connect because the pack will crash your computer. Here's what you need to do...

1) Install...
Hello! Sixbits here!

I think it's about time I updated you on what's been going on. By now you've probably got a lot of questions so I'm gonna do my best to explain what's been going on in a short response.

After Christmas, me and our rather small New Zealand/Australian based team decided to take a break which normally would last a couple weeks max because for us it's Summer and it's justified because we'd been working on MineScape for months prior. We've done a lot you haven't seen in terms of 3D modeling, building and actual game development. Anyway, after Christmas the breaks we took got a bit out of hand and response times have been slacking, so I'd like to apologize for the lack of updates on MineScape. As you may know the servers are currently closed for everyone whilst I sort out getting the team back on track, this could be a couple of weeks or so as I've just found myself to be pretty busy due to school and work in general. But don't stress! MineScape isn't going...



Alpha was a success! I'd like to thank everybody that attended and I hope you're all having a fantastic time on the server. These development blogs will now turn into weekly update blogs. Each week we'll be updating the server on Fridays with all the new content we've worked on each week working towards open Beta. Bug fixes will be consistent but feature updates will be weekly. Right, lets talk about Alpha.



Alpha was good fun, I enjoyed seeing everyone on. It was incredibly energetic and exciting! Here's some pictures from the event.

(Source)
Since Alpha began we added three new combat skills and fixed numerous bugs. We'll continue to fix bugs for the next couple of days whilst we work towards next weeks update.
Also, whilst...

Hello everyone once again! With Alpha only a week away we're all getting incredibly excited! This weeks development blog is going to be more about how we're going to handle Alpha and less about actual development as we want it to be a surprise when you Alpha testers join. Any who, on with the development blog!


The Alpha Opening Ceremony (How to get free instant access)
So, before Alpha I myself along with some of the other staff members will be throwing a party on Discord. A channel will be made separately for the event and everyone will be invited to join us on opening, now I realize this sounds like a bummer for those of you who don't own a Founder pack which is why I'd like to mention that for every person who attends that doesn't already have access will be given an 'Instant Access Key' which provides instant access to the closed Alpha with no added benefits....
Hello everyone! Sixbits back with another weekly development blog. This ones got some big additions, not a lot to show but some big news to share. Alpha is in two weeks! More info on that below and also I've decided to keep what we've been working on both this week and next week more of a secret with little hints so expect us to be showing less of what we've done towards release. Read on for some of what we've been working on.
Resource Pack
Bart got plenty done on the pack, added some new hats/mobs, redoing some textures. Mostly just working towards Alpha and changing things to look nicer.

Development
The bank is complete! @Dablakbandit has finished it, fleshed it out, works like a charm and might I say it's fantastic. So much so I decided to put together a simple video for you. Watch it, might be a little surprise at the end.
...
Hello! Back again with a less important development blog. We got minimal done on MineScape this week, for multiple reasons. We've been migrating servers over to our new servers. Setting up the public server
as well as working on more back end less important things. So this weeks dev blog is gonna be a dull one (hence it being 9.1 instead of 10
but we should be back to our regularly scheduled development next week.
Conquest
During this week, due to me not being able to do much as we're converting all our servers and development with the new systems and such, my priority has been on a side project known as Feudal Conquest. What is it? Feudal Conquest is a Kingdom Survival and raiding simulator MMORPG thing that I've had planned for a while. Sheesh that's a mouth full. Heres some screenshots of it here!

...

Hello everyone! After finding out that minimal people read all the garbage I put in the devblog I'm probably going to start cutting it a lot shorter unless anything needs a good explanation. Anyway, interesting week it's been. Lots of resource pack work being done, @Dablakbandit got to work on the bank and boy is it fancy! Anyway, let's get right into it.
Resource Pack
Here's some pictures of what Bart did this week. Really happy with the outcome overall.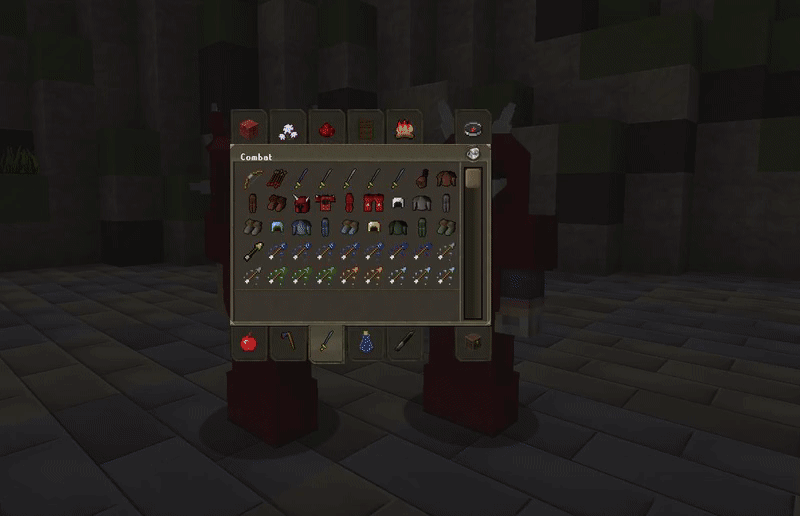 Those sexy dragon helms though, am I right?


Berets which will be found in Treasure Chests. Would be cool seeing a guild wearing them as a uniform.


Wizard hat. I like it. Now time for mobs....
Hello everyone! Sixbits here, back with a fresh devblog full of new and exciting features for you! This week we got to work on more models, mechanics and website changes. We're pushing more and more to closer release. Also, thinking about these development blogs, I write soooo much for each little thing. I'll probably tone it down, do me a favor and comment "Sixbits is cool" below so I know you read the devblog and can feel better about myself! Anyway, here's what we did this week.
Game Mechanics
So @Dablakbandit got started on the bank which is awesome, it's practically done but once again it needs fleshing out. It has a working tabs system where the first item in each tab represents the icon for the tab (like in RS) and little features like noting items, depositing inventory's etc will be implemented as fleshing out continues next week.
Otherwise, new guy
@Nikewade
got to work on Treasure Chests, now obviously...
Hey guys! What's going on? Back again with another development blog. I think this week we made some intense progress, lots of big decisions being made. We did heaps of work on the resource pack, mainly fixing up a lot of the textures to look nicer and more like RuneScape. We've been fixing lots of bugs, adding new features, mechanics, it's really coming along nicely. But, we'll start with how the three phases are gonna go down.
Release Phases
So after a long thought out decision we've come to a decision that we're not sure you guys are going to like. Here's how it's going to work.
Phase #1 - ALPHA
- Only people who have purchased a Founder pack will be able to log in. However, instant access will be available on the store with no added benefits but for a better price.

- Founders will only be able to level their skills up to level 5. This however means their skills will not be reset upon open...

Hey folks, I'm back from my vacation and motivated to get work done! Major progress made on tutorial island this week, though I can not show it, for two reasons. Bart's been busy this week meaning minimal resource pack work has been made, but to compensate @Dablakbandit got plenty done on tutorial island and as mentioned in the Discord chat it is about 60% complete, which means we're 30% away from Founders release! So I don't want to show you because most of what Dablakbandit got done has no textures to it making it look odd and confusing so hopefully Bart is able to get that covered over next week and the second reason is, I want to keep majority of the remaining work a secret as I feel it will make playing on the server for the first time a more enjoyable and exciting experience.

Big thanks to Morgan for taking over whilst I was away, I got to visit some cool places and meet cool people and I feel Morgan did a good job so props to him for doing...